Michael Rodent's Bed ,Bath & Kitchen
Accessories Co.
Mickey Mouse Bed, Bath & Kitchen Gifts and Collectibles

Our store feature character and logo bed bath and kitchen accessories.

Mickey Mouse is our number one character,
but we offer many other characters as well.
This is our starting page for all things Mickey Mouse to decorate your home. We offer in stock items for the Bedroom, Bathroom and Kitchen as well as a selection of Disney collectible decor by Jim Shore .
In addition, we are an authorized WDCC dealer as well as a
NAO by Lladro Disney dealer.
If you are looking for something Mickey Mouse and unique,
please email us and we can try to help you.
Sales@michaelrodents.com
Mickey Mouse for the Bathroom
Here is the Mickey Mouse shower curtain that we have available.
You can click this link to see more details of
our Mickey Mouse bathroom accessory items
Are you looking for a Mickey Mouse rug.
then click on this rug to see the special sale price
we have available.
Only $16.95 for the rug

You are going to need some Mickey wallpaper or wallpaper border
to help decorate your Mickey Mouse bathroom .
See all of our Mickey Mouse wallpaper borders here
Minnie Mouse too.

Our store stocks many patterns of both border with Mickey and actual sidewall paper of Mickey Mouse. Some styles are available only for USA customers.
Mickey for the Kitchen
Mickey Mouse kitchen appliances,


We have Mickey and other Disney character cookie jars in stock.
Mickey ceramic cookie jars
&
Mickey and Minnie kitchen cake pans and gadgets.
Available now are Mickey silicone Cake Pans, cupcake pans,
and burger flippers and the cool Mickey
measuring cup and spoon set shown above.
Click here to see all of these great Mickey items.
And for the Bedroom we have Mickey Mouse comforters and sheet sets in twin size and some cool Cotton and Polyester Mickey blankets.
Click here to see more of our Mickey bedroom items
Comforters and Sheets too!
Mickey Mouse crib bedding is all very blue and boy patterned right now.
We do have some parts of older patterns left ,
so click here to see what we have for your Mickey Mouse nursery.

IF you want, check out the Disney Store for this interesting Crib Set .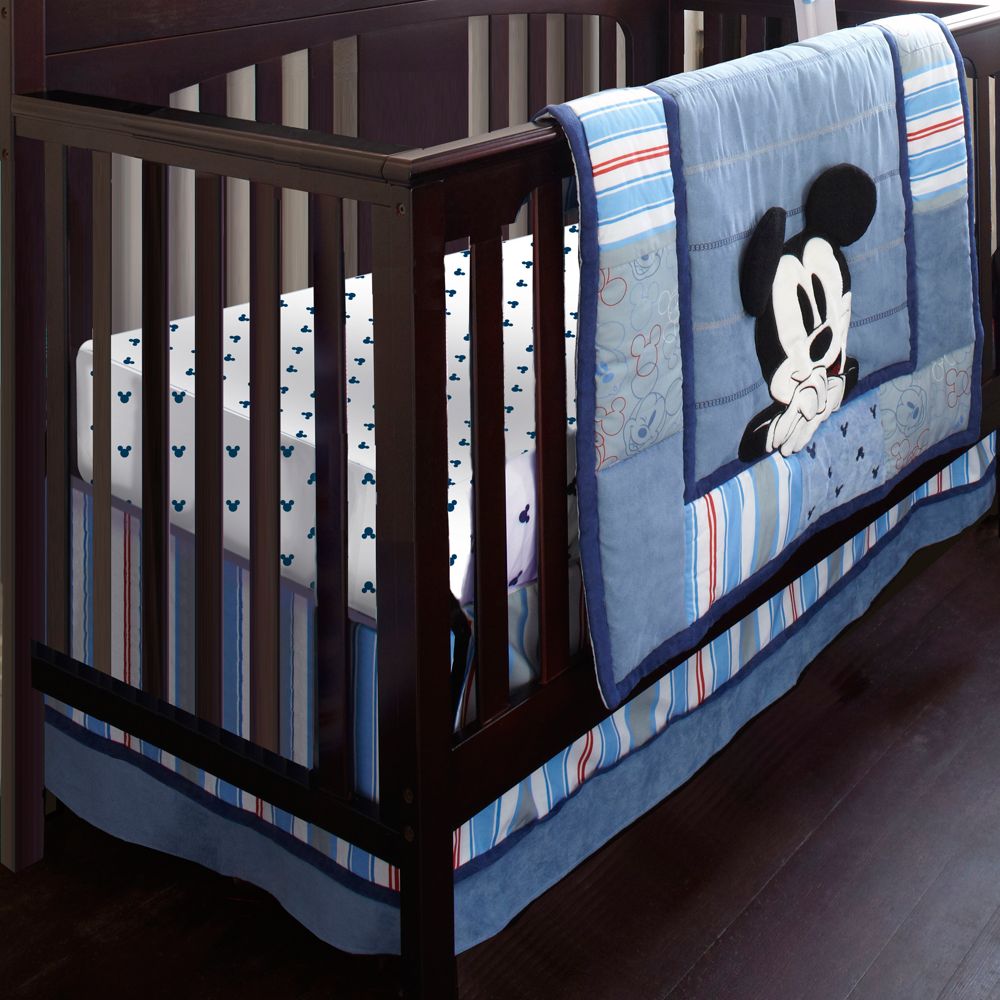 Mickey Mouse Crib Bedding Set for Baby - Personalizable
Here is what Disney has to say about this crib set $189.50 US
•Comforter: Front Knit 100% polyester, Front Woven 65% Polyester and 35% Cotton, Back 80% Polyester and 20% Cotton, Filling 100% Polyester Fiber; Fitted sheets: 100% Cotton, Sheet saver: 100% Polyester, Filling 100% Polyester Fiber; Diaper stacker: Top 100% Polyester, Bottom: 65% Polyester, 35% Cotton, Filling 100% Polyester Fiber, 1 dust ruffle
•Includes: 1 comforter 33'' x 42'', 2 fitted sheets 28'' x 52'', 1 sheet saver 28 1/2'' x 14'', 1 diaper stacker, 1 dust ruffle 28'' X 52''. Fits most standard size cribs
•Imported
We have Disney Dinnerware in a pattern called Sketchbook Mickey or Sketchbook , insert other character here.
The above set now uses the footed bowl shown on the side.
Available in limited qty in
Mickey Mouse, Minnie Mouse, Donald Duck, Goofy and Pluto.
Click the link to see all the details.

Many other patterns of Mickey dishes are available here,
click above as well .
Disney Cel Phone skins
clcik here and go to another cool store.

Classic Mickey design skin for Blackberry Pearl Flip 8220
other phone styles and images available. click the link and see.
More Disney characters
Winnie the Pooh
Both Classic and Disney Pooh items are available.
POOH CRIB BEDDING
Princess Disney Bedding
This is a 100% cotton jersey knit bed set.
Twin sized bedding with your favorite Disney Princesses.
We have Disney Princess and all sorts of other Disney wallpaper borders and wall stickers available.
Disney Cars are available in bedding and wall decor.
Some of our Other great Characters
Snoopy
We have a great offering of Snoopy Kitchen and Bath linens from Belgium
For the kitchen we have Snoopy towels, apron, Snoopy placemats
and Napkins and even a Snoopy Table Runner.
For the Bathroom, we have
Fabric Snoopy shower curtains
, rugs, and a great selection of Snoopy towels. Click on the images above for more information on our Snoopy decor.
Betty Boop

We have a great deal or repsect for Betty Boop, she was the first animated femail Superstar character and continues today to have a great following.
Click the images above to find out more about of Betty Boop products .


Doctor Who

Doctor Who
The latest in a long line of Doctors
Click here to get some information on these
cool Doctor WHO collectibles.

Interested in a tenth Doctor long coat,
just like David Tennant's or
Now Matt Smith.
Looney Tunes Tweety Bathroom accessories
and other Great animated character collectible decor.
We have 3 styles of Tweety accessories for the bath, both plastic and ceramic. We have Tweety rugs, Towels and Tweety shower curtains
.
Looney Tunes Kitchen items like Cookie jars and
Salt and Pepper shakers

are all over our website, but the best item we have for the kitchen is the
Taz BBQ apron and Oven Mitts.
Specialy priced right now, only $18.95
for the set of Apron and oven mitt pair
And we have so many fun mugs like these
Monopoly and Scrabble ones.

Other Great Animated Characters
Powerpuff Girls
Scooby Doo
We have some Scooby bath accessories .
We have sold out of the Scooby Doo shower curtains ,
but still have some great Scooby DOO accessories available.
Click here for more information
Curious George
Curious George decor and wallpaper borders.
Please follow this link for more information.
Curious George
Here is some non character items that are still just fun.
Cats, and I mean goofy looking cats,
in a great bathroom accessories set.
We have the 4 bath accessories,
a Cat shaped toothbrush holder ( orange)
a grey Cat lotion dispenser
as well as a Cat soap dish and bathroom tumbler.
Follow this link to buy these accessories.
We have all sorts of Super Hero Bed , Bath and Kitchen decor and collectibles available.
If you love Marvel Comics, DC Comics or independent comic, we have a lot of great items.
Here are some samples of what we have available to buy.
Wolverine Cookie Jar.
Super Hero cookie jars,
We will have Wolverine
Thor, Captain America and Spiderman cookie jars
available to order.
Check out all our Marvel Comics items here .
DC Comics is well represented in our store as well.
Here are some samples of or Batman, Superman, Wonder Woman and Green Lantern decor and collectibles.
Toon Tumblers are available to OUR USA customers only.
Marvel Toon Tumbler, click here.
How about Star Trek, New Pez for the Star Trek the Next Generation aniversary .
See all of our Star Trek items here.
Other Kids characters like Thomas the Tank Engine are great
themes for kids bedrooms.
We have bedding available as well as wall decor and growth charts.

Bookends and murals
Blockbuster Movie themes like
Harry Potter
and
TINTIN
have a special place in our store because
we love movies so very much.
And for the Kitchen who is a better collectible them other than
the
Pillsbury Doughboy
.
We have a huge selection of
Discontinued and out of stock items .
Ceramics from Benjamin and Medwin ,
Enamled Steel pots and melamine trivets too.
All with the Doughboy's smiling face on them.
Looking for Mickey Mouse clothing, click here .